Saileen Drumm Artist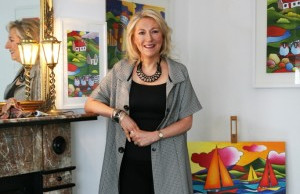 Saileen Drumm is an emerging artist from Newport, County Mayo. Her works are a vibrant series of landscapes, townscapes and seascapes of the idyllic West of Ireland. Her projects are of a very traditional subject but with a very modern twist.
Using her fun and playful approach to these traditional subjects, she has created a joyful reflection of her community, indeed each painting has its own story to tell, as they are personal to her. Saileen's works draw out the striking colours of rural Ireland, allowing you, the viewer, to escape and immerse yourself into her vision of her heritage.
A couple of years ago, Saileen decided to introduce Irish to her cards and to the business materials she uses to promote her work. She believes that the language is an ideal fit for her artwork which is all produced in the west of Ireland.
Shop